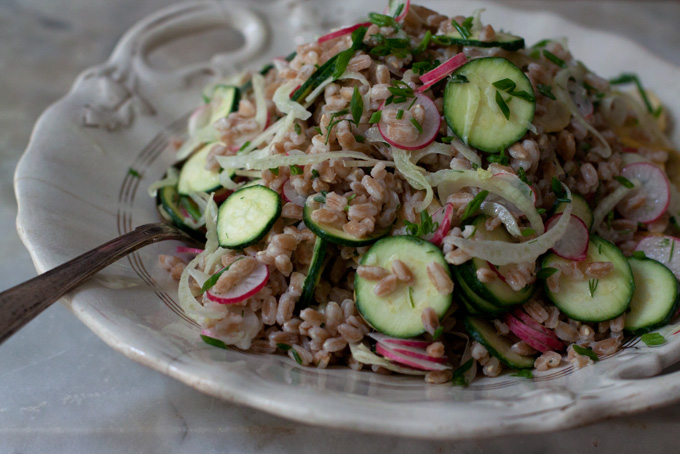 (image: 101 Cookbooks)
I saw this on 101 Cookbooks and was so excited to share.  Ok, I know that this recipe is for farro but you could just as easily sub in your wheat berries you have in the cupboard.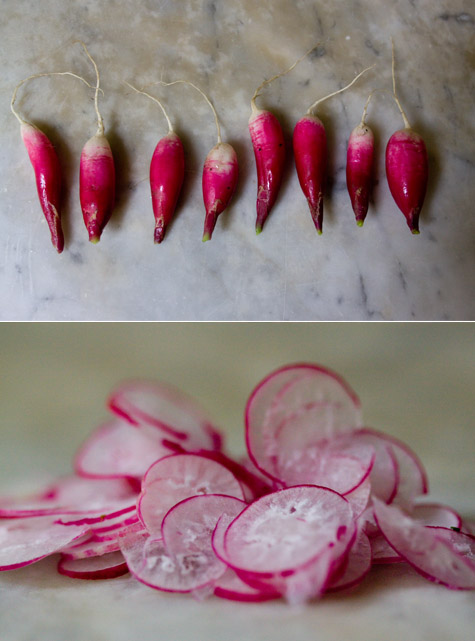 I loved this recipe since it includes a few of our current CSA items and of course it looks like a great go-to recipe.  Here it is:
Buttermilk Farro Salad Recipe
I used semi-pearled farro here, but you can certainly substitute whole farro, wheat berries, barley, or other plump grains. I say to serve this at room temperature, but actually, I like this salad warm, room temperature, and chilled. It's good the day after, and for a couple days after that. Just revive with a splash of the leftover dressing.
2 medium cloves garlic, minced
1 teaspoon fine grain sea salt
1 cup / 240 ml buttermilk
1/2 cup / 120 ml good-quality white wine vinegar
1/2 cup / 120 ml extra virgin olive oil
1/4 cup chopped dill
1/2 cup chopped chives
1 tablespoon chopped thyme

7 small radishes, sliced paper thin
3 small zucchini, sliced paper thin
1 medium head of fennel, trimmed and sliced paper thin

4 cups cooked farro, cooled to room temp
chopped chives for garnish
Combine the garlic and salt on a cutting board. Mash into a paste using the flat side of your knife. Place in a medium bowl or jar, then add the buttermilk and vinegar. Whisk together and let sit for 5 minutes or so. Gradually whisk in the olive oil, then the herbs.
In a large bowl gently toss the radishes, zucchini, and fennel with the farro grains. Add 1 cup / 240 ml of the dressing and toss again. Let sit for ten minutes, taste, and adjust with more dressing, if needed, and salt to taste. Serve sprinkled with chives.
Serves 8.
101 Cookbooks http://www.101cookbooks.com/